6.8.2017
Races in Budišov …
5.8.2017 we participated in well-prepared hearding race in Budišov nad Budišovkou. The last time I was with Kennik about three years ago :). Still, my great enemy is nervousness, the feeling when you send the dog to the outrun, you want to whistle, and you do not even have a tone out of your mouth :). We started with Kipi and Cookie in the IHT 1 category. With Cookie we did not run very well, and finally I ended up running at the funnel when we did not manage to get the sheep into it. With every failed attempt, my efforts were worse, Cookie more dismayed and tired. This has caused further errors.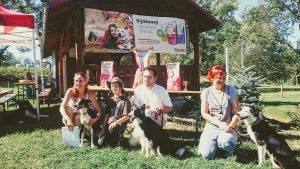 With Kipi we were doing better. Her feeling and the space she can give to sheep was the real nut. She had a beautiful, quiet lift, while fetchi dragged the sheep to the left, but we managed to get them back on the line. We hit the three gates, the funnel first managed and followed the closure to the basket. I'm saying it's super cool. Error. The hardest hurdle for us, where we've lost the most points. The sheep did not want to go inside and they tried to avoid the sight of the barn. With every failed attempt, I started to confuse more, fortunately we finally managed to close.
And the result? Kipinka won her first race!